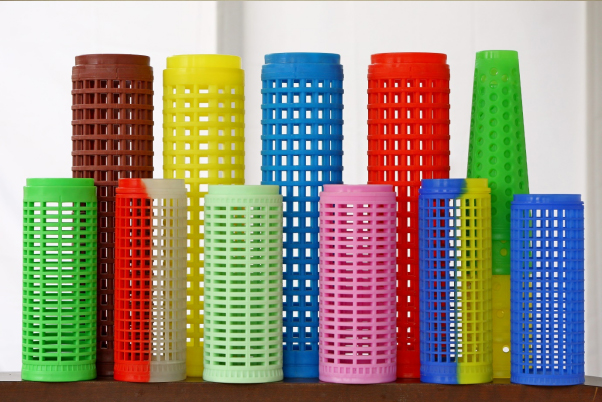 Perforated Dye Tubes and Dye Cones
Anupamplast has a large variety of perforated dye tubes and dye cones with different perforations and patterns for different end applications.
Dye tubes and dye cones are produced from modified high temperature resistant material as per required end applications.
Perforated dye cones and dye tubes are available in different conicity, perforations, weights and dimensions as per requirement.
Available in more than 30 single colour shades as well as in two colour or double colour shades.
Available for single use yarn sale or multi use internal use applications.
| | Top I.D. | Bottom I.D. | Length | Weight |
| --- | --- | --- | --- | --- |
| Dye tube – single use | 54mm | 59mm | 163mm | 46gms |
| Dye tube – single use | 54mm | 59mm | 170mm | 48gms |
| Dye tube – single use | 54mm | 59mm | 176mm | 51gms |
| Dye tube – multi use | 54mm | 59mm | 170mm | 100gms |
| Dye tube – multi use | 54mm | 59mm | 176mm | 106gms |
| Dye tube – multi use | 54mm | 62mm | 172mm | 100gms |
| Dye tube – multi use | 54mm | 63mm | 170mm | 128gms |
| Dye tube – multi use | 57mm | 63mm | 170mm | 120gms |
| Dye tube – multi use | 63mm | 69mm | 288mm | 175gms |
| Dye cone 4°20" | 28mm | 59mm | 170mm | 30gms |
| Dye cone 4°20" | 33mm | 59mm | 170mm | 28gms |
| Dye cone 4°20" | 33mm | 59mm | 170mm | 39gms |
| Dye cone 5°57" | 28mm | 68mm | 170mm | 60gms |
| Dye Tube - single use | 54mm | 59mm | 170mm | 42gms |
| Dye Tube - single use | 56mm | 63mm | 170mm | 42gms |
| Dye Tube - single use | 56mm | 60mm | 170mm | 52gms |
Send Enquiry